Education and Events
PMA delivers year round industry events, conferences and educational programs that offer invaluable networking opportunities and information to help you grow your business and maximize profitability. By attending these powerful programs, you will deepen your skill sets, expand your professional network, broaden your engagement between industry peers and transform your business.
Signature Events

Technical Programming

Roundtables

Webinars

Workforce Development
---
What's Next?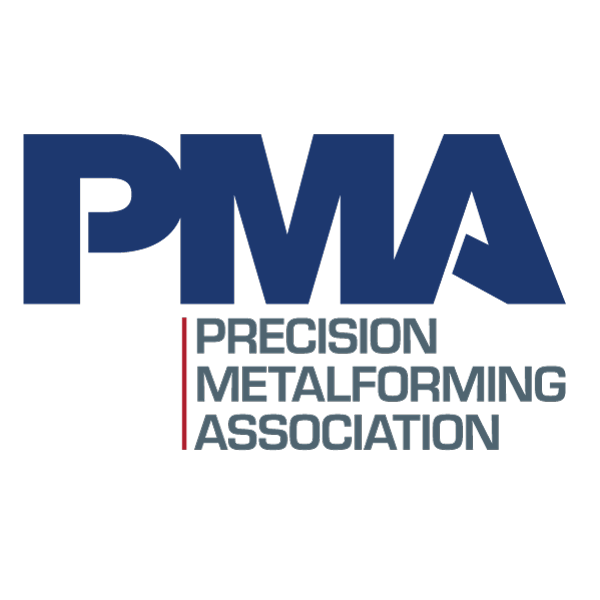 State of the Association 2023
TUE, DEC 5 2023
Webinar | 2:00 p.m.- 3:00 p.m. ET
Join PMA President David Klotz and Vice President of Sales/Publisher Mike Vohland as they provide an update on the association and our publications.
If you are not attending, but need to register others.

---
Upcoming Events
Don't miss these upcoming events!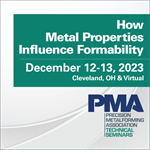 Steel, Aluminum and Stainless Steel: How Metal Properties Influence Formability Seminar
TUE, DEC 12 2023 - WED, DEC 13 2023
Cleveland, OH & Virtual
One Voice in Washington: Public Policy Update
FRI, JAN 5 2024
Webinar | 12:00-12:30 p.m. ET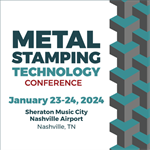 Metal Stamping Technology Conference
MON, JAN 22 2024 - WED, JAN 24 2024
Nashville, TN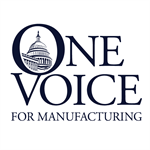 One Voice in Washington: Public Policy Update
FRI, FEB 2 2024
Webinar | 12:00-12:30 p.m. ET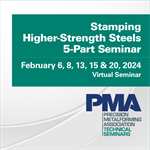 Stamping Higher-Strength Steels 5-Part Virtual Seminar Series
TUE, FEB 6 2024
Virtual Seminar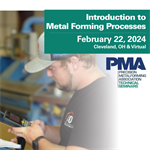 Introduction to Metal Forming Processes Seminar
THU, FEB 22 2024
Cleveland, OH & Virtual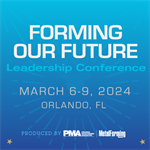 Forming Our Future 2024
WED, MAR 6 2024 - SAT, MAR 9 2024
Orlando, FL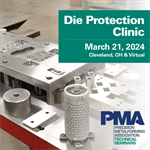 Die Protection Clinic
THU, MAR 21 2024
Cleveland, OH & Virtual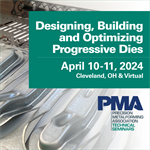 Designing, Building and Optimizing Progressive Dies Seminar
WED, APR 10 2024 - THU, APR 11 2024
Cleveland, OH & Virtual