Webinars
PMA delivers virtual learning opportunities each month that cover a wide range of topics related to industry statistics and benchmarking, professional development, legal and regulatory updates, technical training and more.
These sessions are hosted by knowledge experts who have extensive experience in their related fields and have been carefully selected to supply you with timely, thorough and thought-provoking information specifically related to the manufacturing industry.
What's Next?
New Healthcare Approach to Control Your Spend
WED, MAY 19 2021
Webinar: 11:00 a.m. - 12:00 p.m. ET
Looking to control your benefits costs? Join PMA on May 19 at 11:00 a.m. ET to learn about a new program that will help you do that! The EZ Individual Coverage Health Reimbursement Arrangement (ICHRA) is a new way for businesses to offer employees benefit options while being in control of the costs.
If you are not attending, but need to register others.

---
Upcoming Events
Don't miss these upcoming events!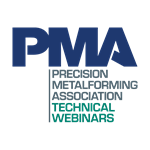 Estimating Metal Stamping Dies Virtual Seminar
THU, JUN 3 2021
Virtual Seminar | 12:00 - 3:30 p.m. ET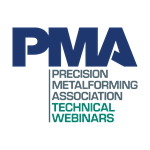 Pricing Jobs in Today's Economy Virtual Seminar
THU, JUN 24 2021
Virtual Seminar | 12:00 - 3:30 p.m. ET
One Voice in Washington: Public Policy and COVID-19 Update
FRI, JUN 25 2021
Webinar | 12:00-1:00 p.m. ET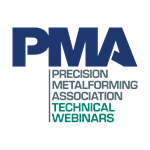 Cutting and Punching Technology Webinar
WED, JUL 14 2021
WEBINAR | 1:00 - 3:00 P.M. ET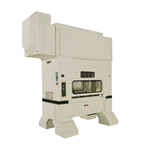 Modernizing the Press Shop – Press Optimization through Sensing & Automation Technologies
TUE, AUG 3 2021
Virtual Seminar | 12:00 - 3:30 p.m. ET