Technical Seminars
A skilled and trained workforce is essential to improve bottom-line performance and make it easier to compete in the global marketplace. As a member of the Precision Metalforming Association (PMA), you and your colleagues can gain the knowledge and competencies needed to succeed by leveraging PMA's technical training programs and resources.
---
What's Next?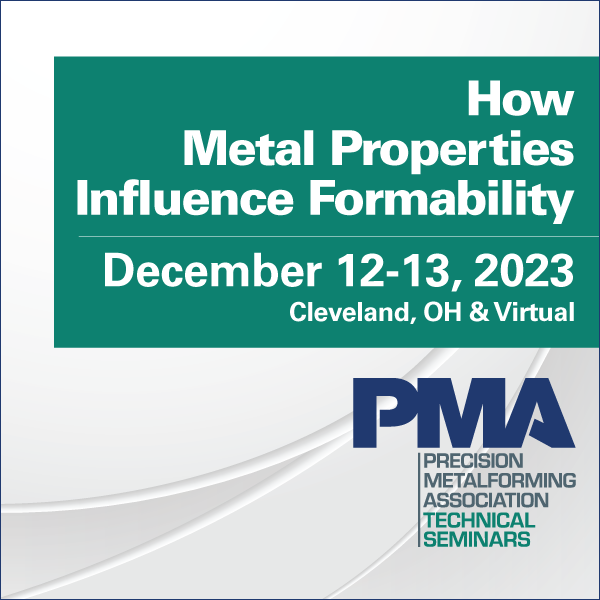 Steel, Aluminum and Stainless Steel: How Metal Properties Influence Formability Seminar
TUE, DEC 12 2023 — WED, DEC 13 2023
Cleveland, OH & Virtual
Topics
Properties and characteristics of common sheet alloys used in metal stampings
Language of sheetmetal forming
Aligning the needs of the part with the capabilities of your metal supplier
Smooth transition from tryout to production parts
Approaches to problem solving
If you are not attending, but need to register others.

---
Upcoming Events
Don't miss these upcoming events!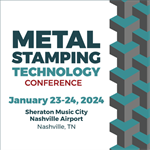 Metal Stamping Technology Conference
MON, JAN 22 2024 - WED, JAN 24 2024
Nashville, TN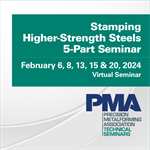 Stamping Higher-Strength Steels 5-Part Virtual Seminar Series
TUE, FEB 6 2024
Virtual Seminar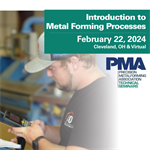 Introduction to Metal Forming Processes Seminar
THU, FEB 22 2024
Cleveland, OH & Virtual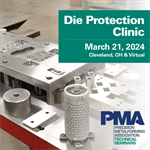 Die Protection Clinic
THU, MAR 21 2024
Cleveland, OH & Virtual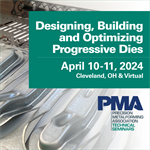 Designing, Building and Optimizing Progressive Dies Seminar
WED, APR 10 2024 - THU, APR 11 2024
Cleveland, OH & Virtual