Technical Seminars
A skilled and trained workforce is essential to improve bottom-line performance and make it easier to compete in the global marketplace. As a member of the Precision Metalforming Association (PMA), you and your colleagues can gain the knowledge and competencies needed to succeed by leveraging PMA's technical training programs and resources.
---
What's Next?
Working With High-Strength Steels virtual seminar
WED, OCT 14 2020 — THU, OCT 15 2020
Virtual Seminar | 12:00 - 3:30 p.m. ET
PMA's technical seminar has gone virtual. Pack your lunch and join our experts as they deliver enlightening presentations!
What you will learn:
The origin and effect of elastic and plastic stress (force) and strain (deformation)
The effect that different mechanical properties have on different forming modes
Proper press and straightening equipment selection
Die-design guidelines and pitfalls to avoid
Dimensional stability and springback
Current and emerging Third Generation Steels
If you are not attending, but need to register others.

---
Upcoming Events
Don't miss these upcoming events!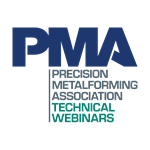 Understanding & Troubleshooting Servo-Driven Metal Stamping Presses
THU, NOV 12 2020
Webinar | 1:00 - 2:30 p.m. ET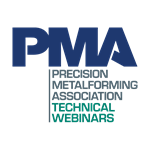 Stamping Aluminum Alloys – Challenges and Solutions
THU, NOV 19 2020
WEBINAR | 1:00 - 2:30 P.M. ET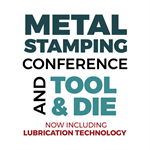 Metal Stamping and Tool & Die Conference with Lubrication Technology
TUE, JAN 26 2021 - WED, JAN 27 2021
Nashville, TN