Press Maintenance and Safety Practices Seminar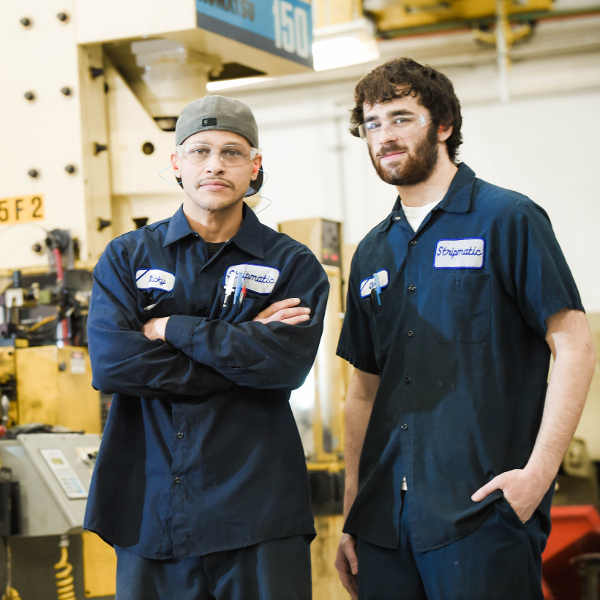 Wednesday, July 31, 2019 - Thursday, August 1, 2019
Cleveland, OH
SOLD OUT
Attendees will learn:
• How to maximize uptime, even with less-than-perfect machinery
• The Theory of the Box
• Safe metal-stamping-press operations
• How to fully understand the design and use of metal-stamping presses
• Efficient and practical preventive-maintenance inspection procedures
Topics Covered:
• Press operator/die setting/basic maintenance training
• Terminology overview
• Clutches and brakes
• Drive-train designs
• Slide assembly
• Basic design features
• Die-setting procedures
• Counterbalance systems
• Troubleshooting
• Servo technology
• Machine guarding safety for the stamping press
Download event flyer here.

Day One
Get the answers to these questions:
Do your press operators, die setters, engineers and maintenance personnel really understand what a press is designed to do? Can they decide if the problem is with the tool or the press? Do they know how to quickly make adjustments to the die space to isolate press problems from the tool?
Day Two
During the first presentation of the day attendees will be shown examples of things gone wrong. Boyd will discuss checklists and other resources that can be used to help prevent accidents in the workplace through machine guarding and employee training.

The second presentation: In the late 1980s OSHA introduced the regulation known as 1910.147 for the control of hazardous energy, based on the original ANSI/ASSE document known as Z244.1. While being well written at the time, OSHA 1910.147 was, and is, based on techniques developed from the late 1970s. Today more than 35 years' later, companies are having to battle to defend their use of the minor servicing language that is part of OSHA's regulation for the control of hazardous energy. With the release of an updated Z244.1 in 2016, language for the control of hazardous energy has been updated to include the current technology of modern-day safety systems as well as to be forward thinking in terms of how to utilize this technology for enhanced operator and machine efficiency. The presentation will review the updated language in Z244.1 and provide examples of how it can apply to various scenarios encountered every shift in the current production environment. The review includes design of the Safety-Related Parts of the Control System (SRP/CS) as it applies to alternative methods of hazardous-energy control and the justification of such risk-reduction methods in a valid risk-assessment document.

Presenters
Jeff Fredline, Sales Engineer, Meco Corp.
Jeff has more than 40 years of experience in the metal stamping machinery industry. He is a well-known speaker at PMA's technical seminars, the annual safety conference and FABTECH. For the last 10 years Jeff has trained on a private basis for major U.S. manufacturing companies such as General Electric, General Motors, Chrysler, BAE Systems, Whirlpool and more. He has a bachelor's degree in Business and has earned journeyman status in the machine repair industry.

Ted Sberna, Principal Owner, White Horse Safety, Inc.
Ted Sberna is a consultant in the discrete manufacturing and process Industries, with more than 30 years' of experience in safety control systems, risk assessments, safety for automation (including electrical and fluid power motion control), with extensive expertise in the metal forming industry. Ted also has actively participated on nearly two dozen ANSI and ISO Safety Standards writing committees.
Boyd Wissbroecker, Home Office Manager Field Services, Federated Mutual Insurance Company
Boyd is an associate in machine tool operations and has a bachelors degree in industrial education. For nearly 35 years Boyd has worked at Federated Insurance providing management, training, safety and loss control services. He currently is responsible for vendor services and electronic deliverables through Federated's Shield Network (FSN).

Agenda
Wednesday, July 31, 2019
7:30 a.m. Breakfast
8:00 a.m. Press Maintenance and Troubleshooting Press Operations, Jeff Fredline, Meco Corp.
12:00 p.m. Lunch
12:45 p.m. Jeff Fredline continues
4:00 p.m. Adjourn
Thursday, August 1, 2019
7:30 a.m. Breakfast
8:00 a.m. Safeguarding the Operator, Boyd Wissbroecker, Home Office Manager, Federated Insurance
9:15 a.m. Applying Alternative Methods of Hazardous Energy Control for Machine Safety and Productivity, Updates to ANSI Z244.1 relative to OSHA 1910.147, Ted Sberna, Principal Owner, White Horse Safety
11:30 a.m. Lunch
12:15 p.m. Ted Sberna continues
2:30 p.m. Adjourn
Note: Breakfast and lunch are included with your registration.
Seminar Location
Precision Metalforming Association
6363 Oak Tree Blvd.
Independence, OH 44131
216-901-8800
Hotel Accommodations
Holiday Inn Cleveland South Independence
6001 Rockside Rd.
Independence, OH 44131
216-524-8050

Reserve your room online or call the hotel to make room reservations. Reference Precision Metalforming Association to receive the PMA rate of $99 plus tax. Hotel offers a complimentary shuttle to and from Cleveland Hopkins International Airport (call the hotel upon arrival to arrange pickup) and has free self-parking. The Holiday Inn shuttle will provide transportation to and from PMA headquarters.
Registration Information - SOLD OUT
Register by July 15 and save $50
$349 PMA member
$549 Nonmembers

After July 15
$399 PMA members
$599 Nonmembers

Note: Breakfast and lunch are included with your registration.

Any questions please contact Marianne Sichi at 216-901-8800 ext. 150.