Metal Stamping and Tool & Die Conference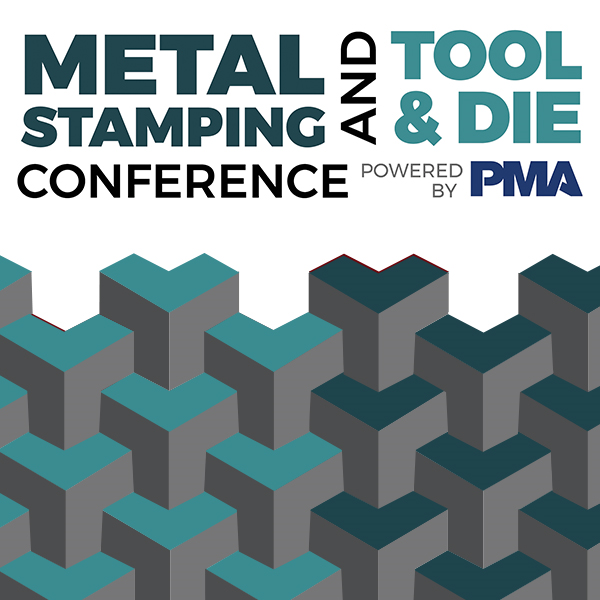 Tuesday, January 29, 2019 - Wednesday, January 30, 2019
Nashville, TN
The Metal Stamping and Tool & Die Conference, presented by PMA in association with MetalForming magazine, will feature keynote presentations, educational breakout sessions for stamping and tool and die, exhibits and a networking reception for more than 200 attendees and sponsors.

Track sessions will feature new, emerging, evolving and maturing technologies and industry trends that are impactful to metal stamping, die design and die construction companies.
At the conclusion of the conference, a drawing will be held for a chance to win one of five gift cards valued at $100 or $50. You must be present to win. Also, all attendees will receive a complimentary gift at the registration desk upon leaving the event!
Join PMA the day before the Metal Stamping and Tool & Die Conference for the 2019 Tool & Die Division Meeting. It will take place in the same location on January 28, 2019. To view the full agenda and to register, visit the event website.

Who Should Attend?

Engineers
Engineering Managers, Directors, VPs
Die Designers
General Managers
Maintenance Managers
Operations Managers, Directors, VPs
Plant Managers
Presidents and CEO's
Supervisors
Tool & Die Makers
Technicians
Tooling Engineers
Toolroom Managers

2019 Exhibitors
AIM Computer Solutions, Inc.
Balluff
Bruderer
Chemcoaters
Die Cad Group
DTC Products
Engineered Lubricants
ETA DYNAFORM
Falcon Tool Company
Feed Lease
FIBRO Inc.
Forming Simulation Technology LLC
Formtek-Maine
Fortech Products
Hitachi Metals
HYSON Metal Forming Solutions
IBC Coatings Technologies
IC-Fluid Power, Inc.
Jacar Systems LLC
Kent Corporation
Kors Engineering
KYZEN
MD Metals, Inc.
Moeller Precision Tool
Oberg Industries, Inc.
Pepperl+Fuchs, Inc.
Pearl Equipment Co., Inc.
PLEX
Sangiacomo Presses
SEYI America, Inc.
SIMPAC America
Stamtec, Inc.
STEINEL
Superior Die Set
The Davis Groupe, LLC
Tool Tech
Tower Metalworking Fluids
Trilion Quality Systems
Unist
Vibro/Dynamics LLC
White Horse Safety, Inc.
Wintriss Controls

See what attendees had to say after last year's conference:
"What a great event! There is a wide range of information, speakers and exhibitors, who share relevant information. This is a very open forum with people willing to talk and share information."
Bob A.

"This conference was well put together and provided a lot of information for attendees to take back to their own place of employment. "
Bryan D.

"This conference was worth attending, I learned about some new technologies and made a few good connections."
Patrick S.

"I really enjoy these conferences. They are very beneficial for our company."
Billy H.

"Always a very informational event! It allows so many of us to stay up-to-date on the latest stamping trends and tooling components in the industry, I highly recommend it."
Jayson M.

"Very educational and an excellent networking opportunity – a must see!"
Johnny H.

"I am new to the business and I found this conference very informative."
Scott F.

"Tool & die is often one of the most misunderstood and underserved segments of the industry. Few outside of this field can relate to the unique pressures and problems it can produce. It was great to be surrounded by peers searching for similar solutions to industry issues."
John H.

"It was a great experience and I look forward to attending more activities in the future."
Cavaris C.

"Good experience and would recommend it to others. Will attend it again in the future."
Daniel B.

If you are not attending, but need to register others.